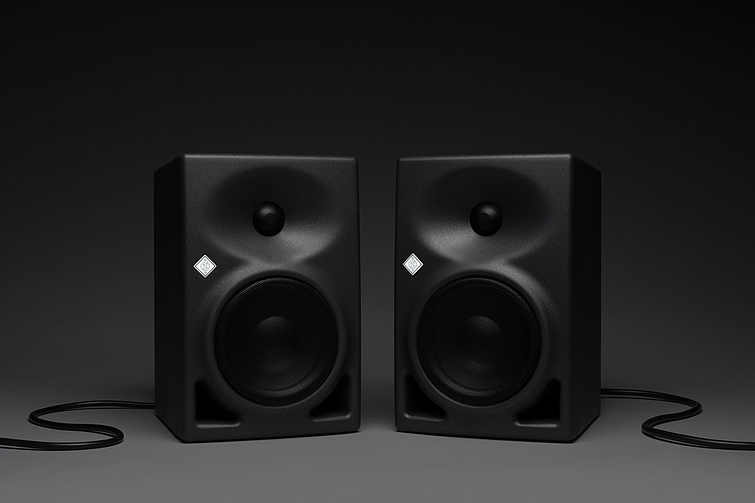 Neumann KH120 studio monitor
Neumann's successful entry to studio monitor speakers
Since its introdcution in 2010, Neumann's KH120 powered speakers have become some kind of studio standard, particularly with small project studios. There is a good reason for this success: Sennheiser – Neumann's mother enterprise – had acquired the company Klein & Hummel in 2005 and, five years later, their range of studio monitor speakers was integrated into Neumann's portfolio of products. The "KH" abbreviation nods at the former manufacturer from Baden-Württemberg in the South of Germany. Sennheiser's executives were hoping for a better market value because of the international reputation of Klein & Hummel, and they were to be right with their decision.
Klein & Hummel used to be the major studio outfitter of German broadcast and television studios for almost 50 years. Since the early 1960s, Klein & Hummel had introduced many models which became a benchmark in many control rooms, e. g. the O92 (c. 1976 to 1995), the O98 (c. 1982 to 1999), the O400 (2001 to 2006), and the O110 (2007 to 2013).
The KH120 for rent is the successor to Klein & Hummel's final close-field monitor speaker, the O110.
Here is a glimpse at the list of features (it's the analogue version KH120A):
two-way powered speaker
frequency range 51 Hz to 21 kHz
four-stage tone-control for bass, low-mid, and treble range for easy integration into different recording spaces
classic Class AB amplifiers with 50 and 80 watts power respectively
can handle sound levels of up to 111 dB SPL
impressive reproduction of bass frequencies thanks to its bass reflex enclosure design
superb impulse response
ideal horizontal and vertical diffusion
XLR input jack
very compact and very portable at 6.4 kilograms per speaker
manufacturing period: since 2010
rent is for a pair of speakers
Favourite applications: Flexible adjustable studio loudspeaker for the near field range
1 Day

40 €

2 Days

60 €

Weekend
(Fr-Mo)

80 €