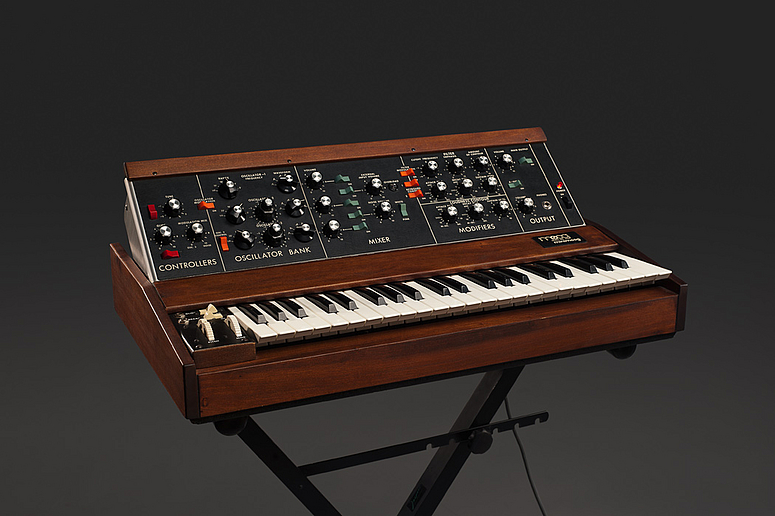 Minimoog
The original one
The Minimoog established standards with its architecture, its integrated keyboard, and its performance controls which would become the yardstick all future portable synthesizer designs would be measured against. Its ergonomic layout and its inspiring design warrant for a perfect access to musical ideas.
Between September 1969 and August 1970, the Minimoog was developed by a group of young engineers, headed by Bob Moog. The Minimoog quickly evolved into the instrument of choice of a many notable keyboard players, among them titans like Keith Emerson, Jan Hammer, Chick Corea, Rick Wakeman, George Duke, or Klaus Schulze.
Sound Generation
All of the Minimoog's sound-generating components are of the highest quality: Three punchy voltage-controlled oscillators and a noise generator produce the sonic raw materials. The third oscillator can also be used as an LFO as well as an audio generator. The output signals of the oscillators and the noise generator are blended in the Mixer stage, and from there they are routed into the classic 24 dB low-pass filter (VCF) which is built in a fully discrete fashion – and it is pretty ballsy. The VCA section is fully discrete as well and sports two extremely snappy envelope generators which are used for controlling loudness contour and timbre.

Performance Tools
Located to the left of the keyboard, the two wheels for controlling pitch and modulation can be found – this established another standard which is still valid today. The modulation wheel controls the depth of pitch and filter modulation. Modulation sources are the third oscillator and the output of the noise generator which can be blended continuously by means of a dedicated potentiometer.

Sound
Its gutty and warm tone is legendary, and its natural feel and response is remarkable for an all-electronic musical instrument. That's the very reason why the Minimoog still counts as the reference for all types of lead, bass, and percussive sounds. Its amazingly animated timbre is owed to subtle harmonic distortion that occurs when gently overdriving the VCF and VCA input stages.

About the unit for rent
The Echoschall Minimoog is one of the stabilized models. It comes with a fine-tune control for VCO 2 and 3 as a factory standard modification. In addition to that, this synthesizer was modified by Kai Roeske (X-TENDED) with some extra bells and whistles which add to its tone considerably:
VCO 2 can be hard-synced to VCO 1 which allows for some very clearly contoured tones without beating between the oscillators, and it can yield some really aggressive tones as well.
The pitch of VCO 2 can be controlled by the filter envelope for creating some extra punchy bass or impressive electronic percussion sounds.
CV control input for controlling pulse-width.
Gate Input for easy integration of the instrument into a MIDI set-up, using a MIDI-to-CV interface.
manufacturing period: 1970-1981
weight (with/without case): 24/15 kg
1 Day

60 €

2 Days

90 €

Weekend
(Fr-Mo)

120 €
Back To Overview