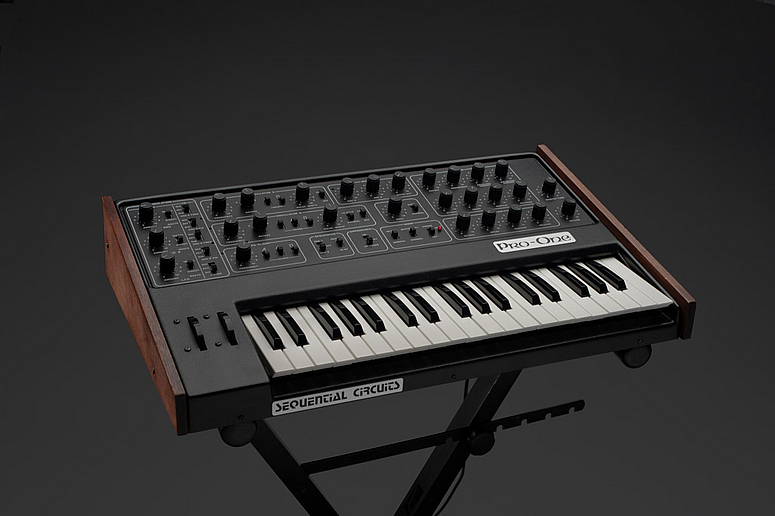 Sequential Circuits Pro-One
Powerhouse with unique modulation matrix

The Pro-One is one of the most versatile monophonic synthesizers in the world. Essentially, its layout is based on the same architecture as Sequential's legendary five-voice polyphonic synth, the Prophet-5. In terms of sound, the Pro-One more or less resembles a later-generation Prophet-5 since the Prophet-5 as well as the Pro-One are based on the same set of Curtis ICs.
Sound generation
The instrument is equipped with the usual sound-generating and sound-shaping component parts (two oscillators, a noise source, voltage-controlled filter, LFO, and two envelope generators) but their feature set leaves nothing to be desired: waveforms can be activated simultaneously, oscillators can be synced to each other, VCO 2 can function as an optional second LFO, there are three LFO waveshapes, filter tracking is continuously variable etc.
The heart and soul of the Pro-One is its extremely rewarding modulation matrix which turns the Pro-One into a universal tool for any musician who wants to go astray and indulge in a little bit of experimentalism: Three sources (filter envelope generator, VCO B, LFO) can be assigned to five destinations (VCO A, VCO A pulse-width, VCO B, VCO B pulse-width, VCF frequency) – going the direct way, or controlled by the setting of the Modulation wheel to the left of the keyboard.

Performance Tools
This synthesizer is equipped with some excellent performance tools: For starters, there is a sequencer (which can store up to 40 notes), an arpeggiator, pitch and modulation wheels (the works), adjustable glide, and single or multiple triggering. The keyboard of this very example – the Achilles heel of all Pro-Ones – was completely refurbished and plays nicely.

Sound
The character of the Pro-One is harsh, raw, and aggressive, and its scope is fairly wide: From punchy bass (at least at low resonance settings), screaming leads, biting brass, and far-out effects (thanks to the two LFOs on board) to snappy electronic percussion sounds, everything is available at the flick of a switch (or two).
Due to its inherent complexity and its purely electronic timbral character, the Pro-One recommends itself for applications within thoroughbred electronic music.

Unusual features
The external audio input with preamp is highly interesting for running guitar, keyboards, vocals and other audio signals into the Pro-One. The internal Gate Generator triggers filter and amplifier envelope generators as soon as external audio signals exceed a set threshold value.

manufacturing period: 1981-1984
weight (with/without case): 14/6,5 kg
1 Day

40 €

2 Days

60 €

Weekend
(Fr-Mo)

80 €
Back To Overview