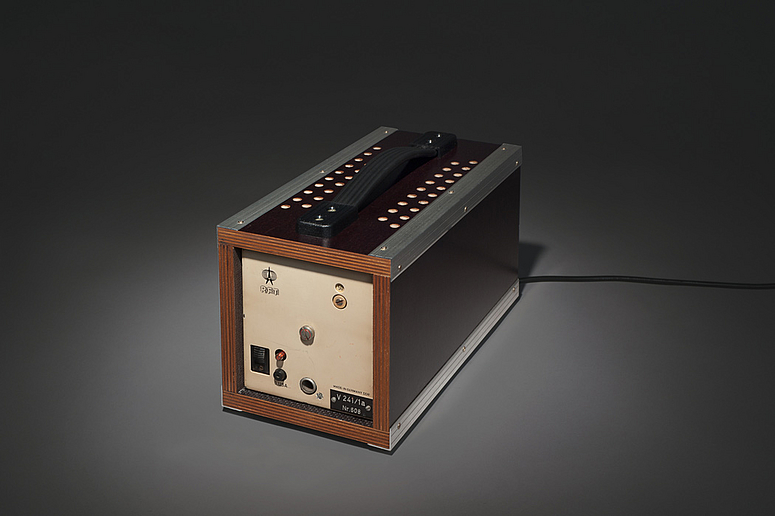 Lorenz V241 (ÜV300) Tube Preamp
The classic of the East German studio technology
As early as in the mid-1930s, manufacturer C. Lorenz AG was already developing and designing studio amplifiers for broadcast applications. In 1945, the company founded a subsidiary in Leipzig which ended up under administration by the union of manufacturers of Rundfunk- und Fernmeldetechnik RFT ("broadcast and radio technology") in June 1949.
The Lorenz V241 is the successor to the legendary V41 model which had originally been released in the late 1920s already. In terms of circuit design, however, the V241 was re-designed from scratch. Along with the two models from West-Germany – the TAB V76 and the EAB MV63 – it belongs to the breed of reference models of valve-based microphone pre-amplifiers. This amplifier is also known as the model ÜV300, V241 being the nomenclature used for broadcast applications.

Properties of the V241:
two-stage amplifier (types of valves used: EF86 and ECC85)
puristic circuit layout
powerful sound thanks to a built-in anode choke
linear frequency response thanks to phase compensation within the amplifier stages
12 dB of overdrive headroom
amplification between 20 and 50 dB adjustable in steps of 5 dB
-20 dB Pad Switch (built into the rear panel of all examples for rent)
neutral and powerful reproduction of sound
price is for one single lunch box only
manufacturing period: from 1958 to 1975
weight (with/without casing) 11 / 7.5 kg

How to use it
Since the V241 has its roots in the golden age of radio valves, it was consequently designed to be used with valve-based condenser microphones. When using transistorized microphones, there is a risk of the V241 input transducer being damaged (or even destroyed) because of the phantom voltage that is required for the operation of the microphones. The Neumann N452i 48V power-supply helps to solve this issue, and it can be rented along with the V241 at no extra charge – this way, the Lorenz V241 can be used with transitorised microphone designs like e. g. the Neumann U87, AKG's C414, or the Microtech Gefell M930. When using dynamic microphones, operation poses no hassle – be warned that the V241 might run into trouble when using ribbon-type microphones because of its maximum amplification of 50 dB.
The examples for rent
The three examples we have for rent were completely refurbished by specialist Eckehard Dux, and their technical specification is excellent, to say the least. The preamplifiers were installed into lunchboxes that were equipped with XLR inputs and outputs (see picture) as well as pad-switches (-20 dB).

The significance of the pad-switch is not to be neglected: With no pre-attenuation active, the V241 can only handle a maximum output level of -1 dB (measured). This function should be active with some condenser microphones as their maximum output level (particularly with higher signal levels) can easily go beyond this value. Microphones in question would be, for example, the Neumann models U67, M149, U87Ai, and U47 as well as the Neumann Gefell CMV563. Neumann's M49 and AKG's C12 can be used without activating the pad switch, however.
The V241 can also be used with line-level signals (synthesizers, electric pianos, drum computers, within a mastering chain etc.) thanks to its custom line-level cable (-25 dB) which can be rented at no extra charge.
1 Day

24 €

2 Days

40 €

Weekend
(Fr-Mo)

50 €