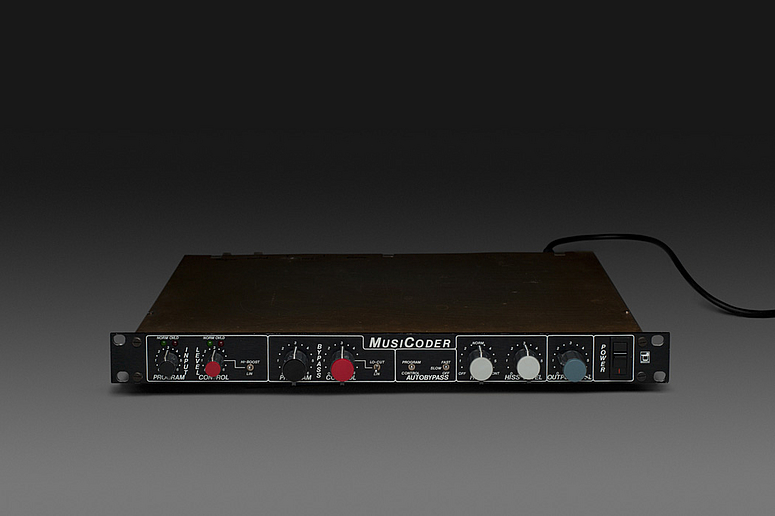 Barth MusiCoder Stereo Vocoder
First-class stereo vocoder with 16 filter bands
The second half of the 1970s was the "Golden Age" of the vocoder. Almost all the leading models date back to this period.
1976: EMS 5000
1977: EMS 2000, EMS 3000
1978: Moog Vocoder, Sennheiser VSM201, Korg VC-10, Electro Harmonix Vocoder
1979: Barth MusiCoder, Roland SVC-350, Synton 221, Synton 222
Even before the great vocoder wave in 1973, Peter H. Leunig and Knut Obermayr had already built a custom-made vocoder for Kraftwerk that can be heard on the release Ralf & Florian (also from 1973). A few years later, Leunig again started to develop a vocoder, the "MusiCoder" - this time for the recording studio outfitter, R. Barth KG, who brought it onto the market in a small series of approx. 40 models from the end of 1979.
Concept
The fundamental idea behind the Barth MusiCoder was to produce a space-saving device (1 HE) concentrating on the key functions. It should be simple and intuitive to operate for every musician without any audio compromises. The MusiCoder could thus be considered an alternative to other top vocoders, in particular the Sennheiser VSM201 that offered a wealth of setting possibilities. Furthermore, the MusiCoder has the advantage over all its competitors at that time of outputting the vocoded signal in stereo. The 16 filters are thereby arranged in a panorama with a fixed setting left, centre or right. Here a view of the extensive electronics.
The device was comprehensively serviced by Klaus Fischer.

Setting possibilities
The variable parameters are limited to the needs of the 'musical' concept.
1. Volume control of the carrier and control signal (called Program and Control here)
2. Mixer control of the original signals with the vocoded signal
3. Setting for the threshold value and volume of the noise generator for generation of sibilant ('s') sounds and ghost voices
4. Switch for treble boost and bass roll-off to increase the speech quality
5. Auto bypass mode optionally for the Program or Control signal to bridge pauses when only one of the original signals is to be heard and an interruption is undesirable

Fields of application & sound
The speech quality of the Barth MusiCoder is very high thanks to its 16 filter bands. We recommend the small-diaphragm model Schoeps MK41S (supercardioid for voice recording from close range) as microphone for this application.
But vocoders are by no means only something for voice experts. A readable compilation of other varied application examples are described by EMS institution, Ludwig Rehberg, in 1980 in his three-part vocoder series in the german Studio Magazin (Part 1) (Part 2) (Part 3).
Users are not limited in any way in their choice of signals, whether drum loops, choruses, fan songs, church bells: This vocoder invites you to experiment, while the sound always remains warm and pleasant. The MusiCoder is thus a further Barth classic alongside the Audios. The best-known user of the MusiCoder is Mike Oldfield who employed it prominently in two productions in the early 1980s.

Further links
Original Brochure (1979)

Manufacturing period: 1980-1983
Weight: 6 kg
1 Day

22 €

2 Days

33 €

Weekend
(Fr-Mo)

44 €